Thanks to having a wonderful Sicilian-American mother, some of my family's holiday traditions aren't exactly what you would find in typical households—mostly when it comes to food. Don't get me wrong, it's not all of them. As far as Thanksgiving goes, you'd probably be hard-pressed to find a more midwestern version of the meal than the one we serve. However, once Christmas rolls around, it's strictly mostaccioli with the family's secret meatballs and sauce. (Of course that's not the only holiday we serve it, but you get the point.) For me, Italian food is the epitome of comfort, but I don't think you have to have the connection with it that I do for that to still be true. There aren't many people I know that wouldn't be all in on the idea of a bowl of savory pasta, especially on a chilly fall day.
While I can't share that extra special family recipe with you, as it truly is a secret and being dismissed from the family would be the best case I could hope for if I did, I'm happy to share another favorite with you. It's actually a combination of a couple dishes I've fallen in love with, with a little autumnal twist: a butternut squash sage cheese sauce with asparagus and pancetta, served over gnocchi. I'm sure there's a shorter name out there for it but, just like the dish itself, leaving any part of it out just doesn't seem right.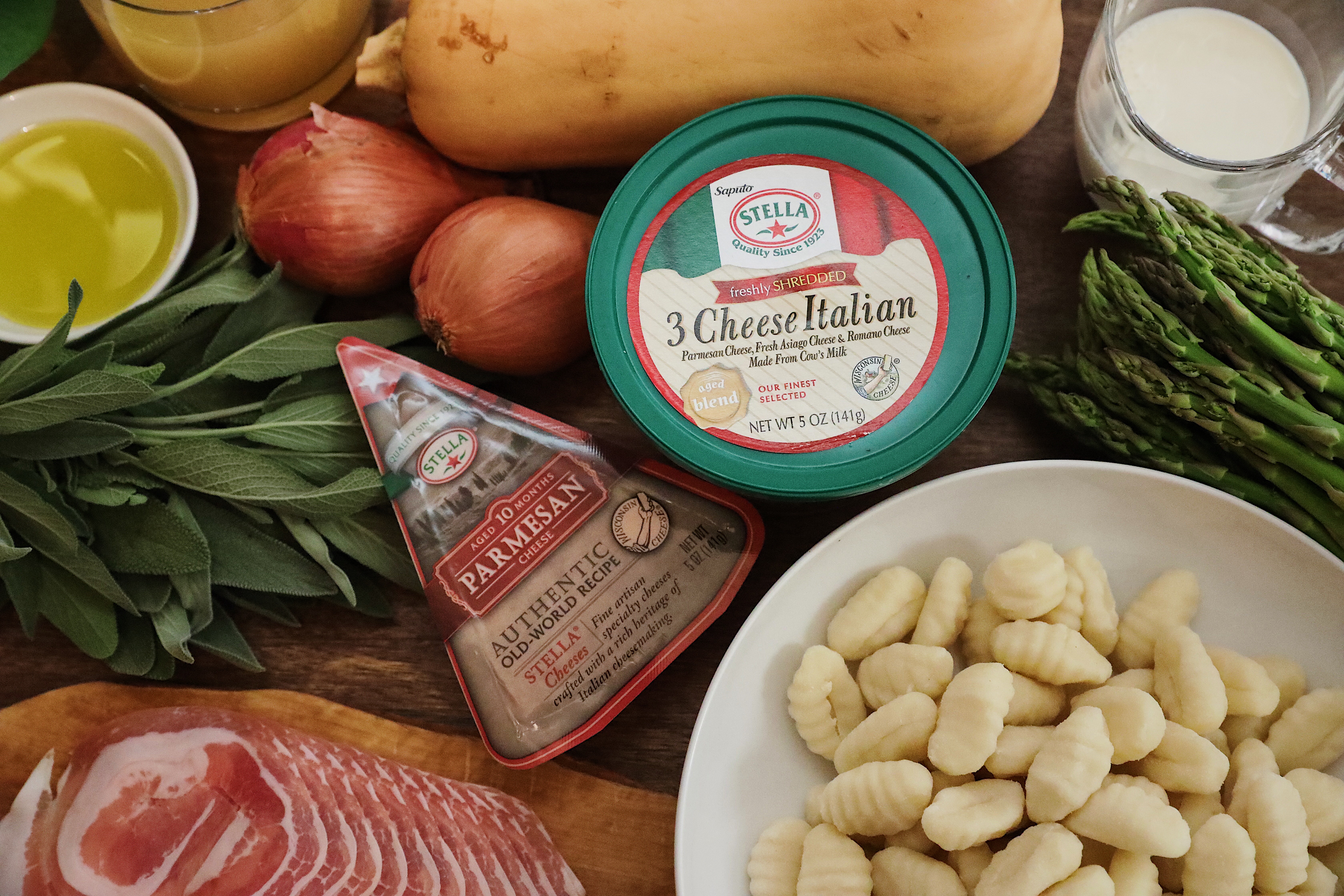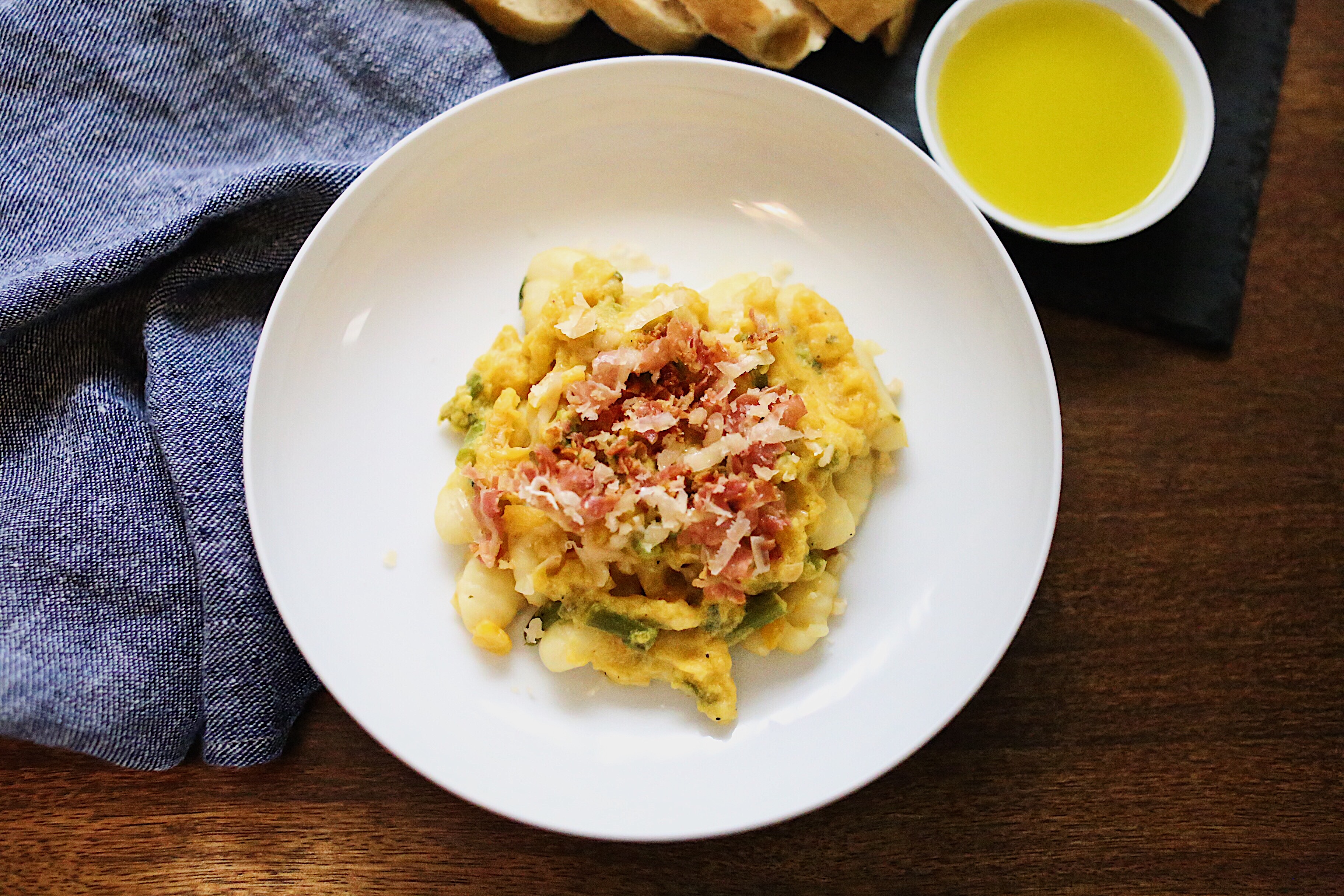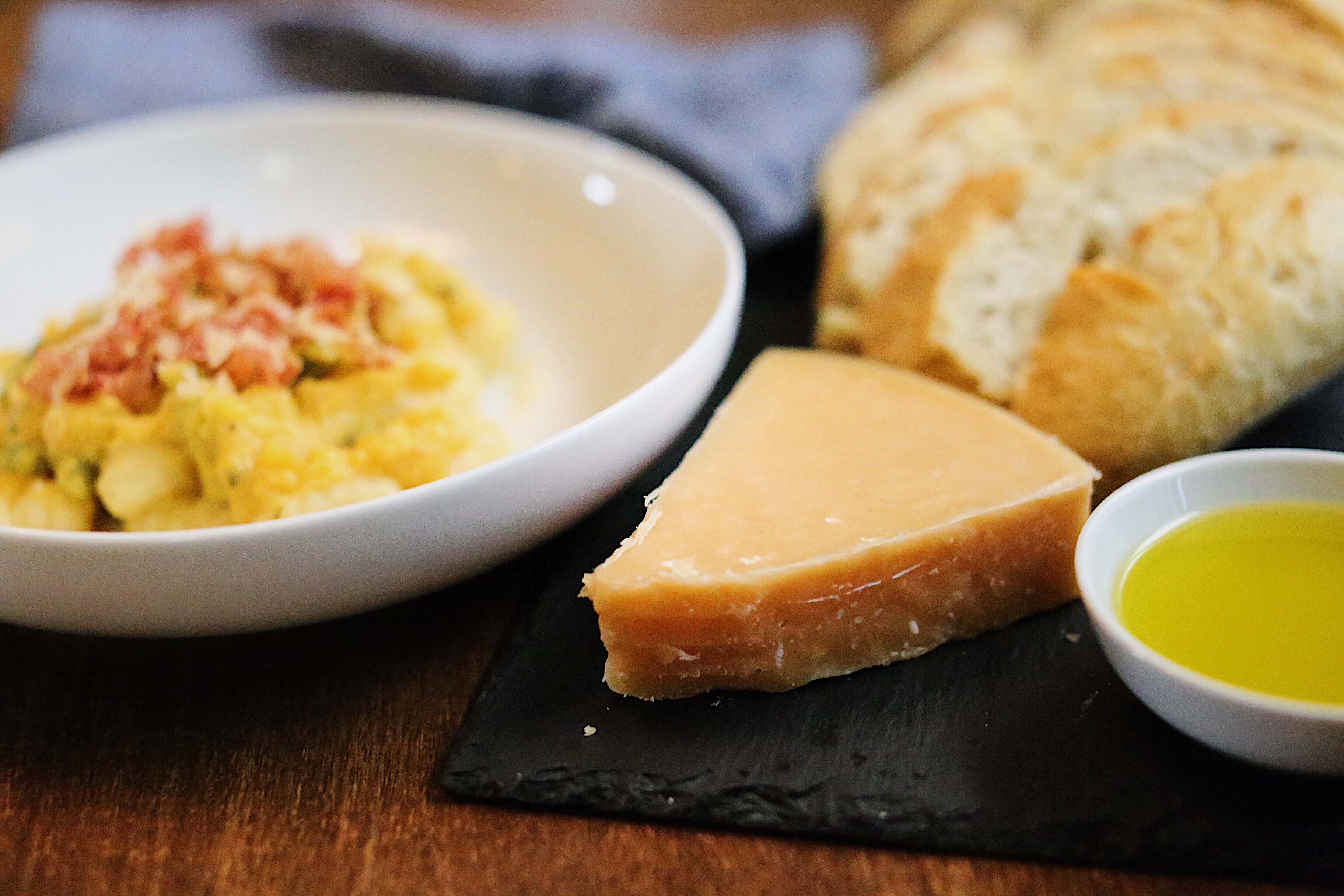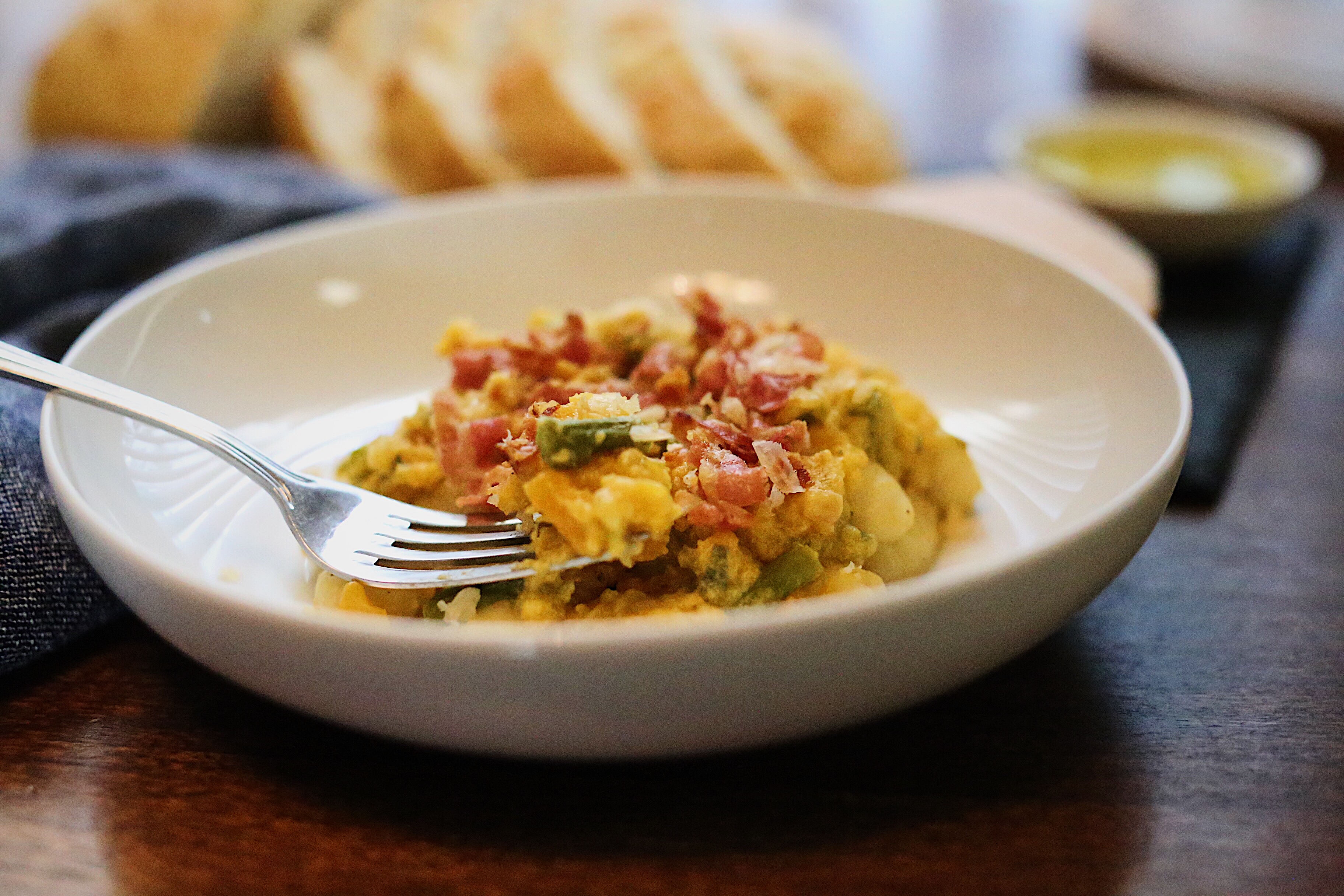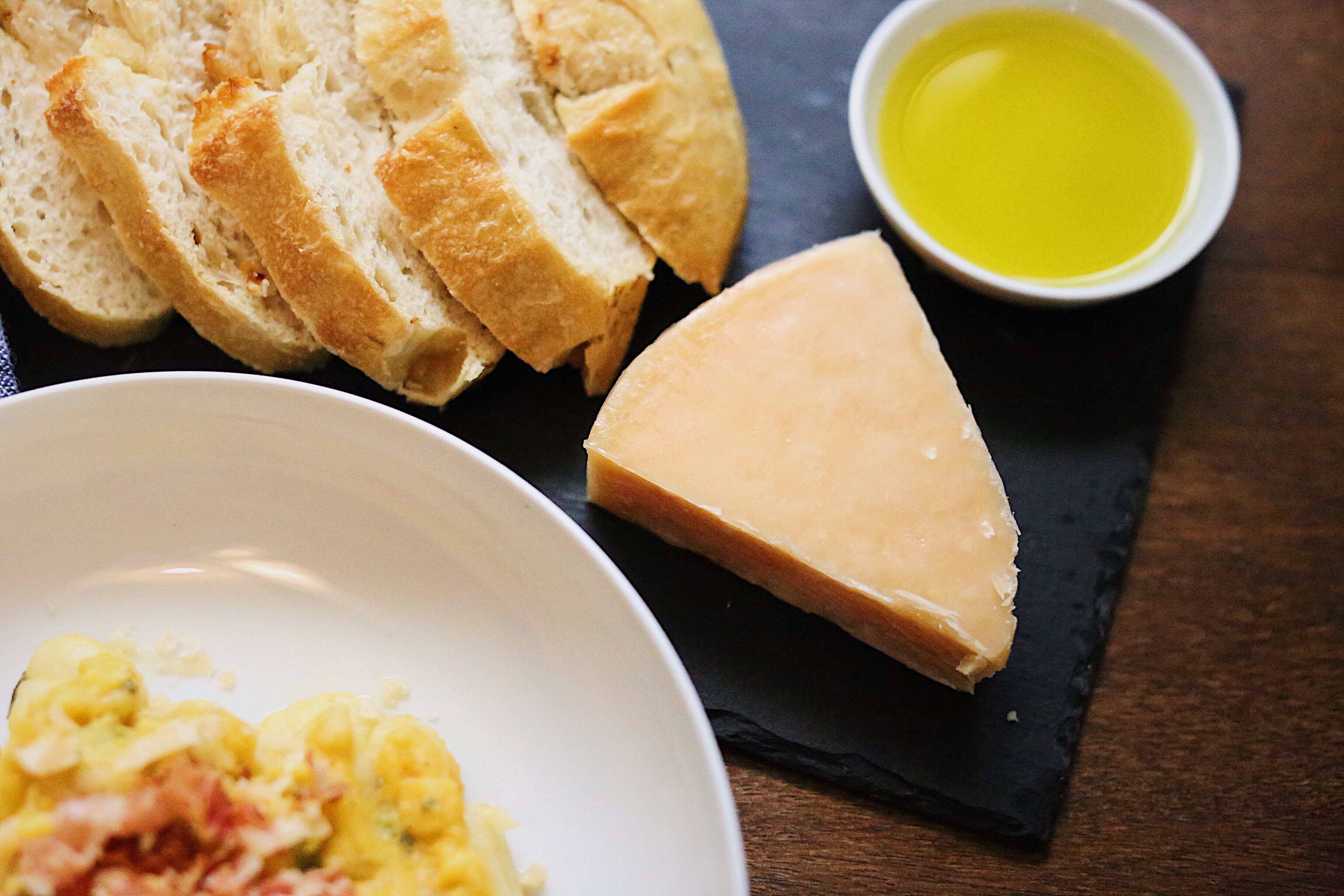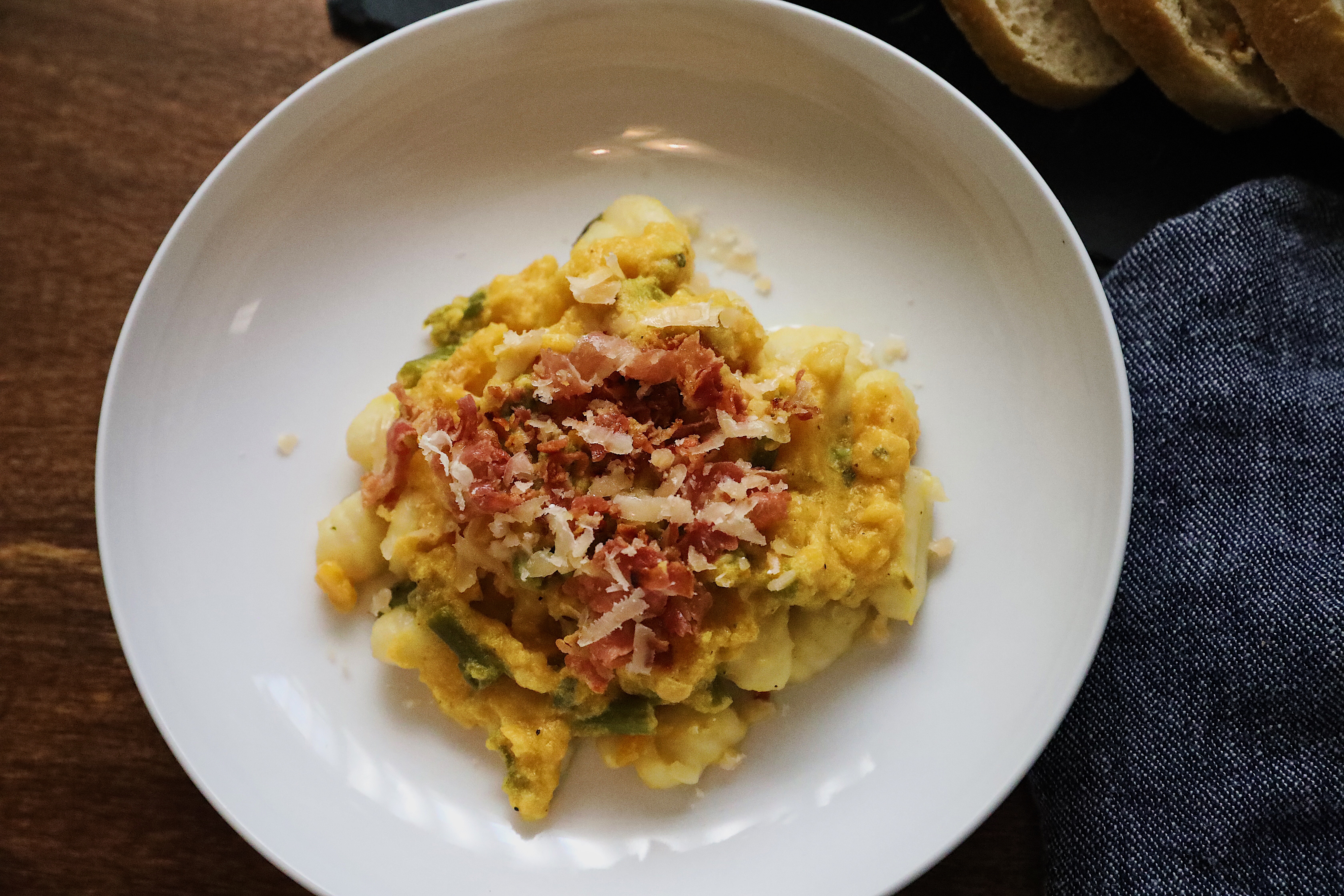 Before we get started, I have something important to tell you about. If you happen to have an original Italian-inspired recipe (or a combination of a few) that you're proud of, Stella® Cheeses wants to know about it. From November 1st through January 12th, they're hosting the Stella® Taste of Authenticity Recipe contest and a chance to win $3,000. If you're interested, you learn more and enter here.
Now, without further ado…
Butternut Squash Sage Cheese Sauce with Asparagus and Pancetta
Ingredients:
Gnocchi – 4 servings
Butternut Squash – 1.5lbs, deseeded/peeled/cubed
Shallots – 2, minced
Asparagus – 3/4 lb, cut into 1″ pieces
Pancetta – 3oz, fried and chopped
Sage Leaves – 7, cut into strips
Stella® Italian Blend Cheese – 1/3 cup
Stella® Parmesan Cheese – freshly grated
Olive Oil – 2 Tbs
Chicken Broth – 1 cup
Half & Half – 1/2-2/3 cup
Nutmeg – pinch
Salt & Pepper
Instructions
In a large skillet, combine olive oil and shallots over medium heat, stirring occasionally until shallots gain a level of translucence.
Add squash and season with salt, pepper, and nutmeg. Sauté for 3 minutes.
Add sage and chicken broth, then cover and cook until squash is tender, about 10 minutes.

Fry and chop pancetta now, if you have not already done so.
Start the water for the gnocchi now.

With an immersion blender, puree the sauce.
Stir in 1/2-2/3 cup of half & half (depending on moisture level left) and Italian cheese blend.
Add asparagus. Cover and simmer on low until tender, about 10 minutes.

Cook gnocchi now, if you have not already done so.

Stir in pancetta* and serve over potato gnocchi immediately (*pancetta can also be served on top). Top with grated parmesan and garnish with sage leaf if you're feeling fancy.