There are very few things I can think of that are as nice as when two things that you absolutely love can be brought together. Joe and I are very lucky in that we get to travel quite a bit more than average individuals. While I thoroughly enjoy everywhere we go, it's safe to say that France is one of my favorite places. Despite this fact, sharing our love for the region with our friends hasn't really gone beyond telling stories from our trips. Maybe this wouldn't be so strange if we didn't love entertaining so much…but we do. Assuming we're home, we tend to throw get-togethers about once a month. With that, I'm embarrassed to say that it wasn't until I recently, when I paired up with the French Ministry of Agriculture, that something dazzlingly obvious occurred to me: why not start serving the French food we'd fallen in love with at our parties?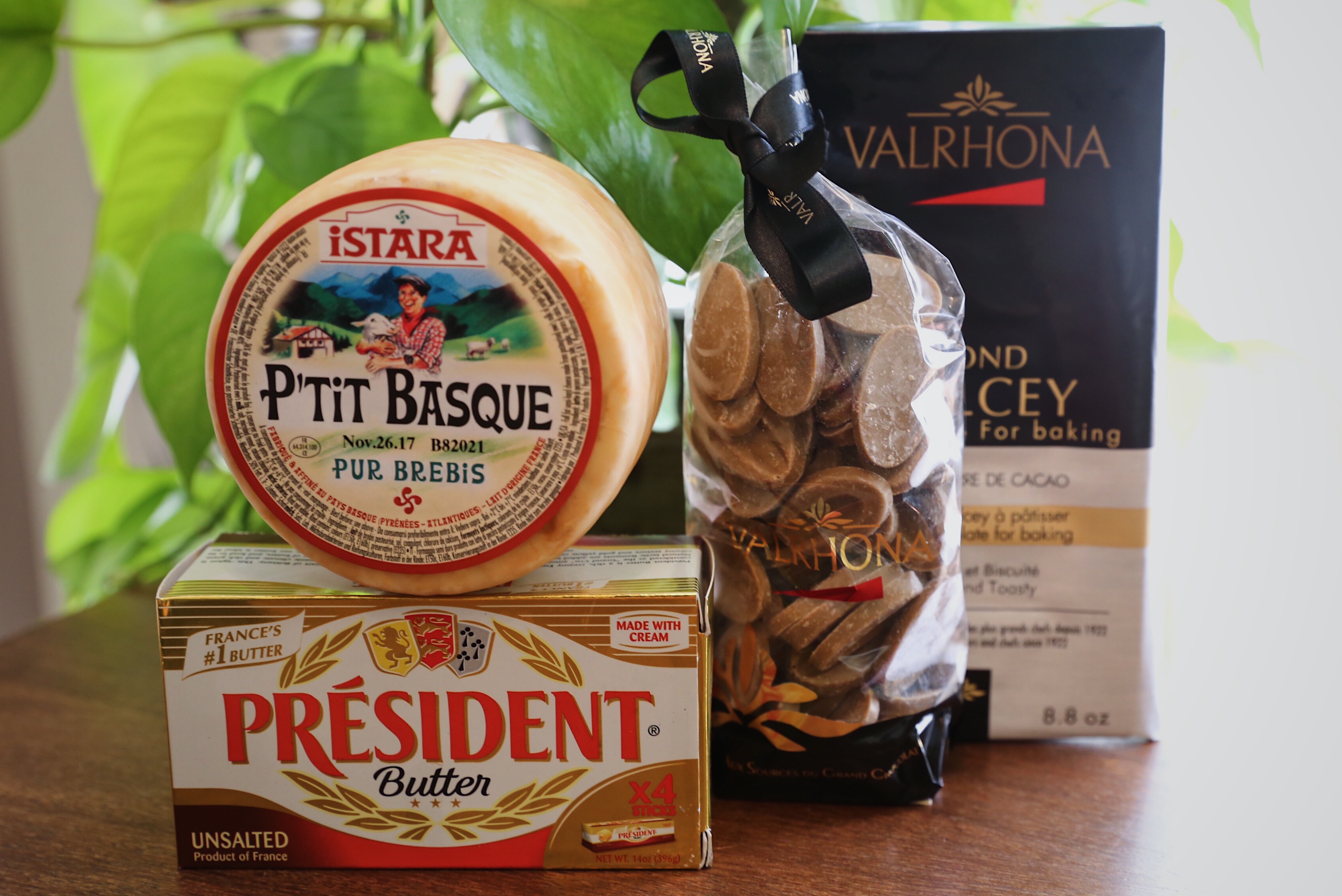 Now to be clear, we're far from strangers to things like charcuterie and rosé—basically, everything about our setups had always been French. We'd just never really gone out of our way to purchase actual French products. After incorporating everything the Ministry sent over, however, I know we won't be looking back.
The Wine
We had the luxury of trying four different amazing wines. Though I manipulated a couple of the things I was sent before serving them, I (obviously) didn't do so with any of these. The first two were Mas de Daumas Gassac white and rosé. I wasn't too familiar with this brand of wine before, but they're pretty special. The grapes themselves were cultivated without the use of chemicals or pesticides, and the grounds are animal-maintained (as in using horses for plowing and sheep to keep the grass height down <3), they harvest by hand, and aging is done in a thousand-year-old cellar. Knowing all of this, one would think the wines themselves would taste pretty divine. And they'd be right.
The second set of wines were of the Les Vignobles André Lurton vineyard. The company is currently one of the biggest wineries in the region, but still family-run. Pretty impressive if I do say so myself.
The Dairy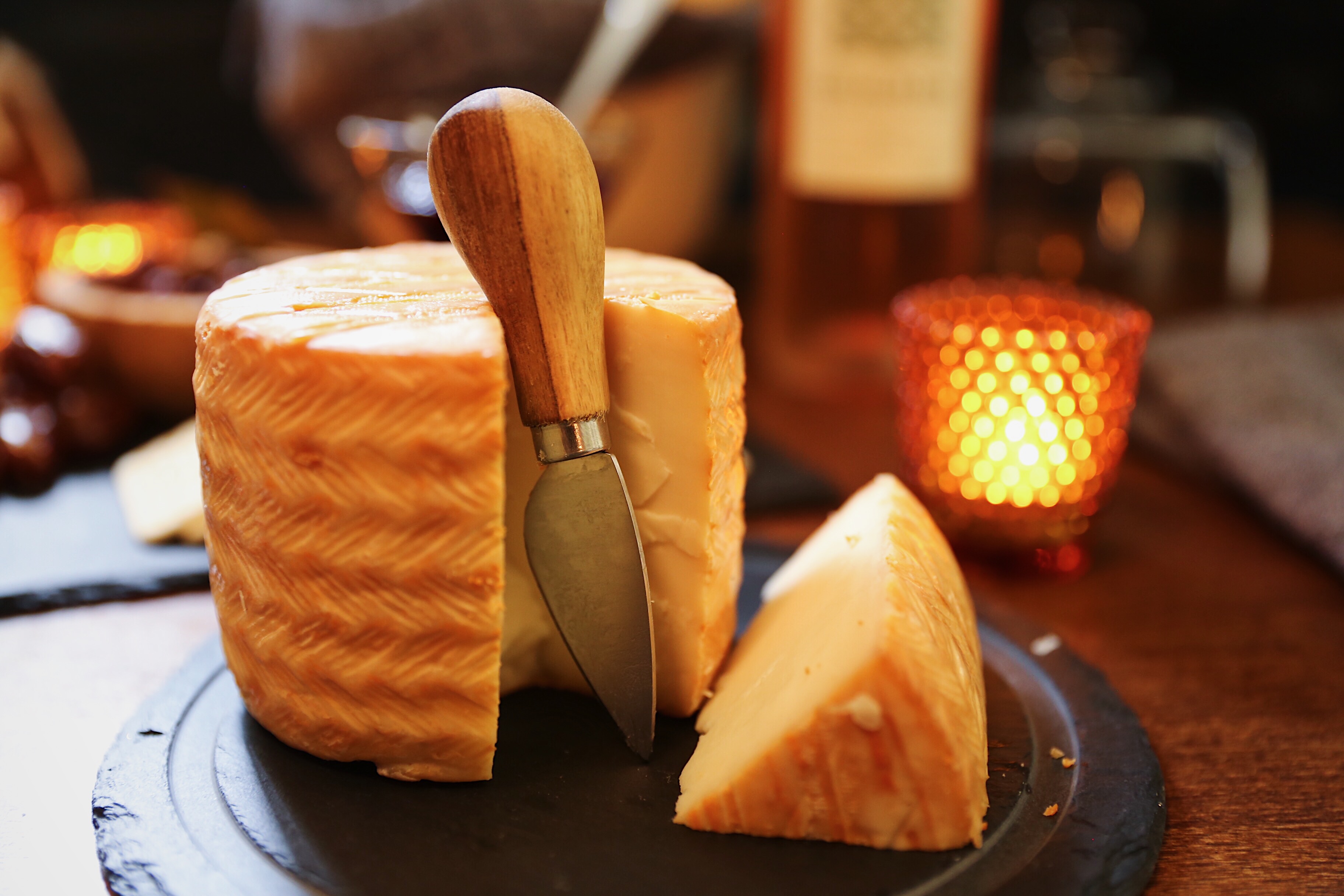 Let's start with the cheese because cheese is awesome. This particular little sheep's milk truckle was from the brand Istara. It was traditionally handmade by shepherds using the curds they set aside while milking their ewes—a method still used by the local shepherds today. As you can see, I didn't do much to the cheese before serving it either. The flavors of the P'tit Basque were somehow distinct enough to stand out, but mild enough to be paired with just about anything. So, I decided to leave it as a choose-your-own-adventure situation. Personally, I think I enjoyed it the most on a slice of baguette with some raspberry preserves.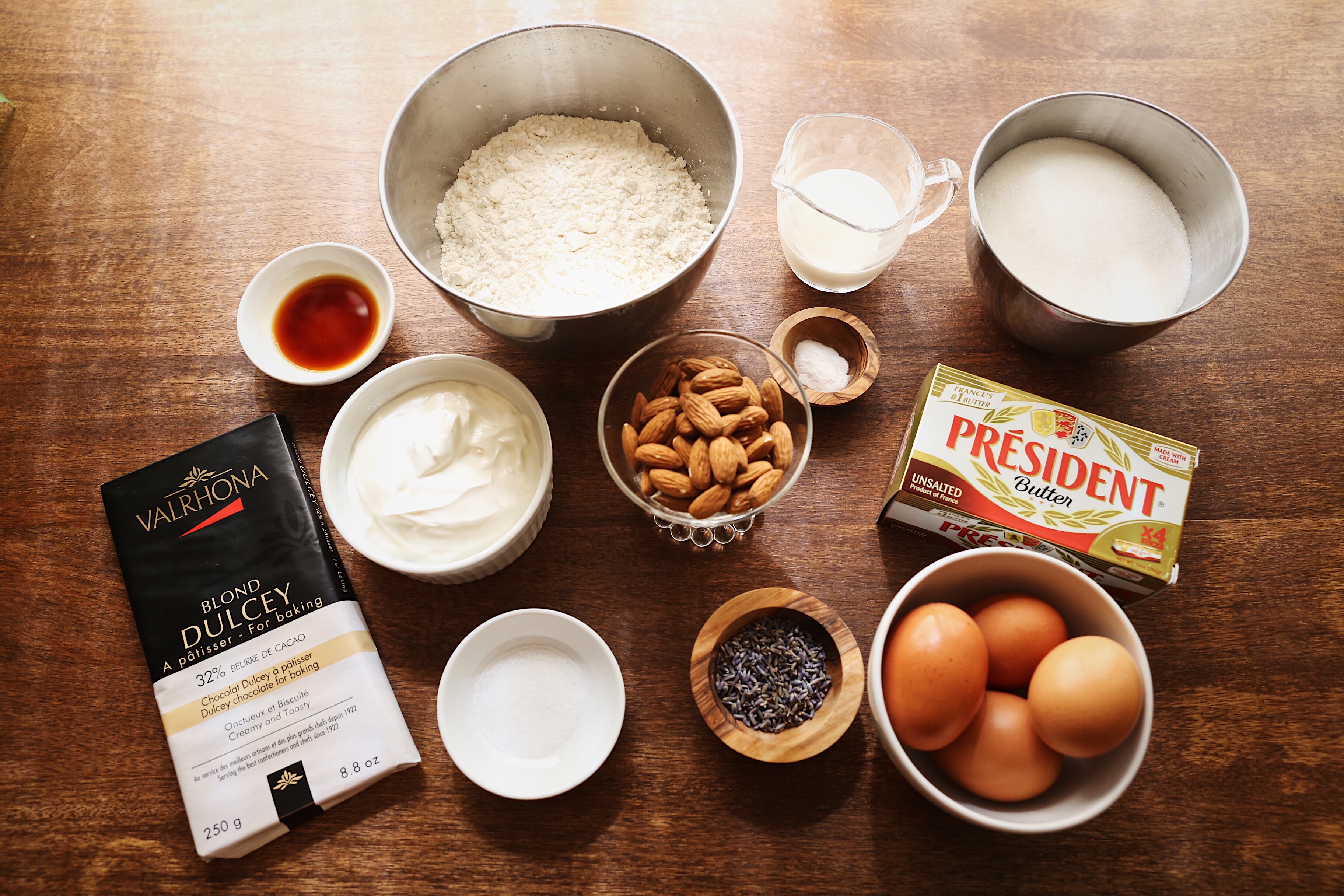 As for the President butter, I decided to incorporate this into a lavender almond cake. I've been obsessed with lavender desserts for at least a few years now, so the choice really wasn't a hard one to make. It was my first attempt of its kind, and I have to say, it turned out pretty great. Though, I'm sure it had everything to do with the quality of my ingredients 😉 😉
The Chocolate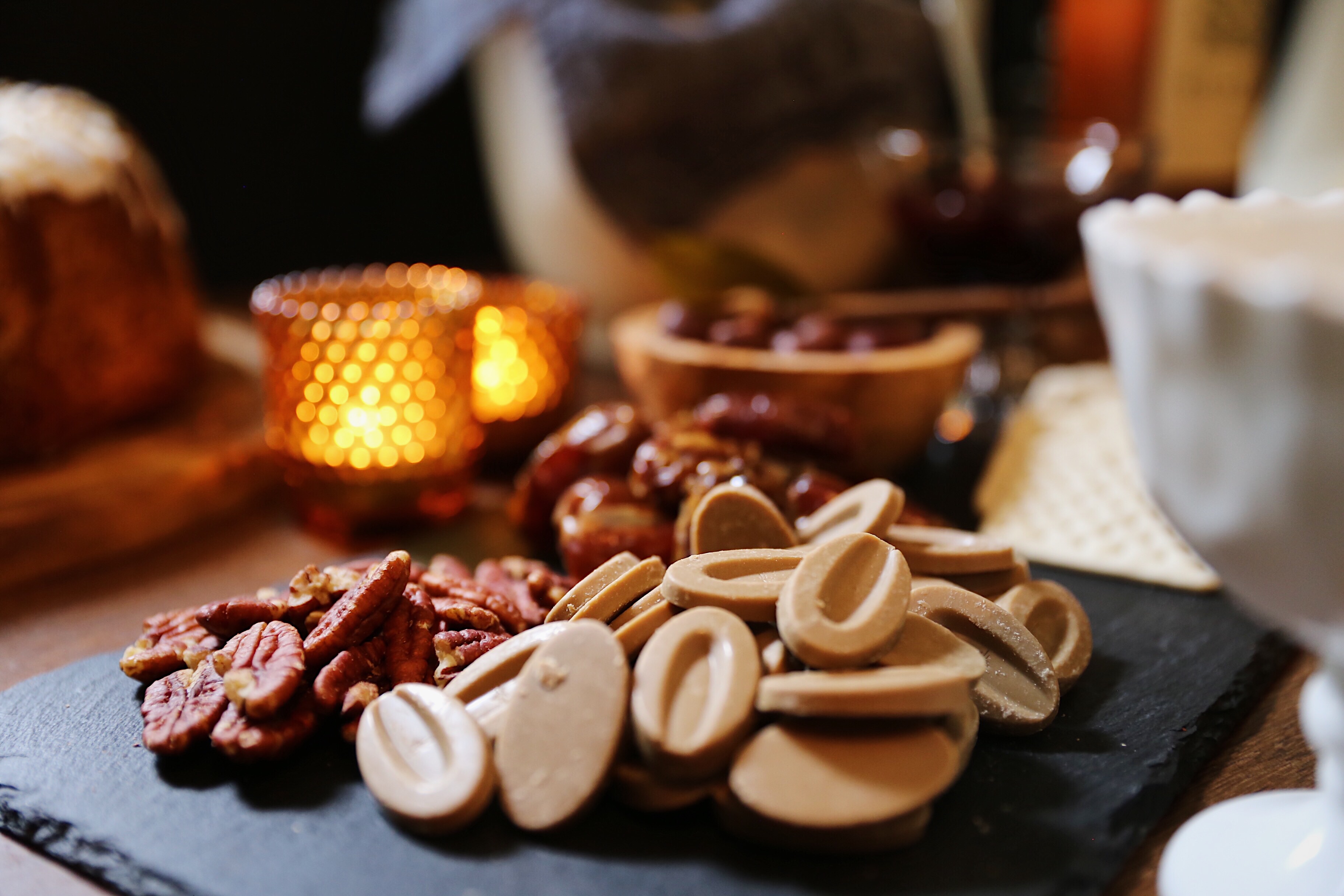 Y'all. This chocolate, though.
Both of the chocolates come from Valrhona—a company created in 1922 by a pastry chef, for pastry chefs. Their products are made to be used by "the world's most demanding pastry professionals and chocolatiers", so it should come as no surprise when I tell you that they're absolutely some of best I've ever had in my life. The Dulcey 32% baking bar was actually created out of a bit of an accident. During a demonstration, the chef left some white chocolate in the bain-marie too long and it turned blond. Just 8 years of R&D later (in case you were concerned about just how much they evidently care about making things perfect) and here we are. The Orelys are blond chocolate as well, with muscovado sugar giving it hints of licorice. I thought it was important to experience one of them on its own, so I chose to use the former as a drizzle over the cake I had made, and the latter I served as it came.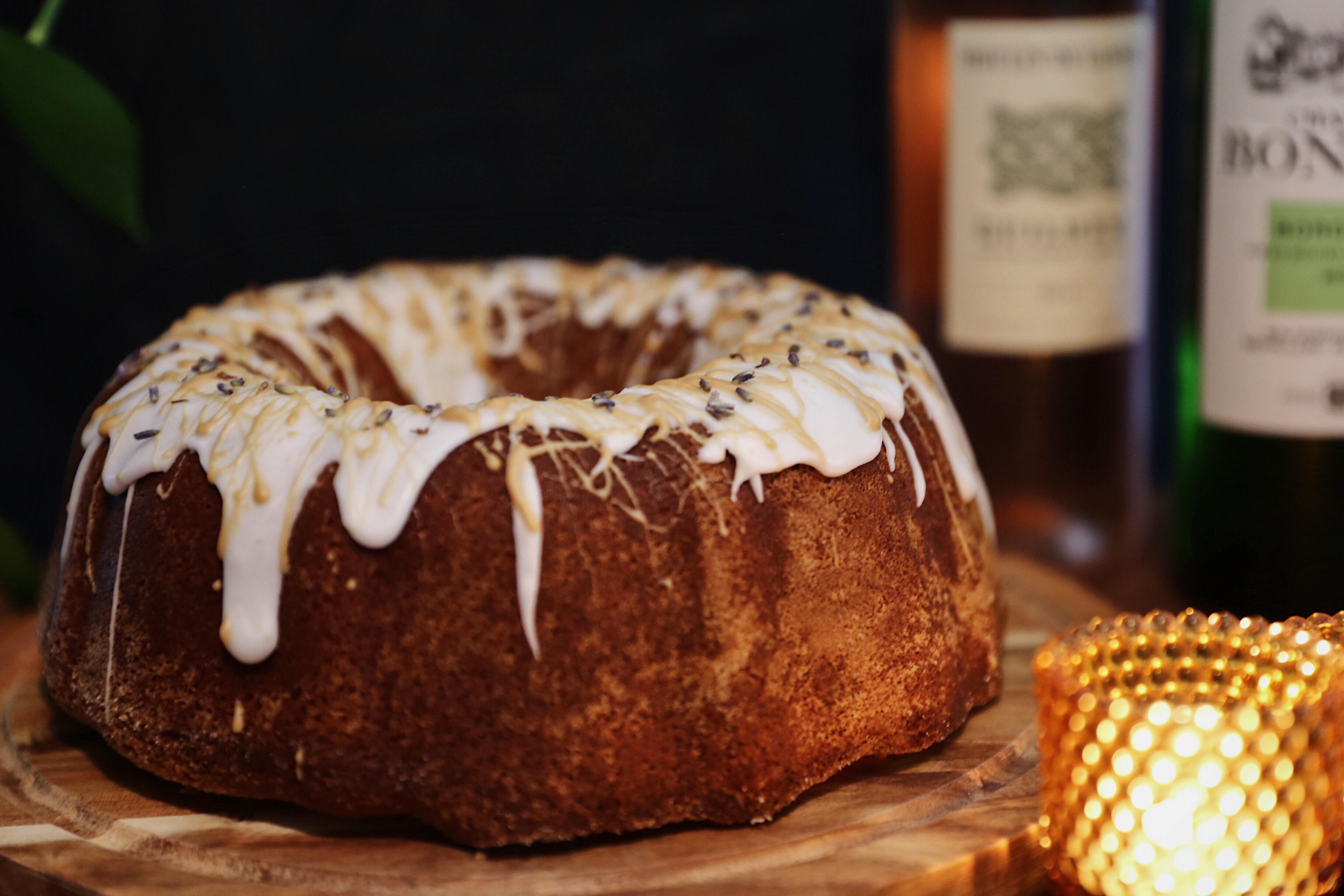 Overall, I'm really happy with how everything came out. I'm seriously kicking myself for not thinking to do something like this sooner. If you're considering throwing any kind of party sometime soon—maybe a fall get-together—I really think you should give some actual French products a try. With how reasonable and accessible they are, you really have no excuse not to.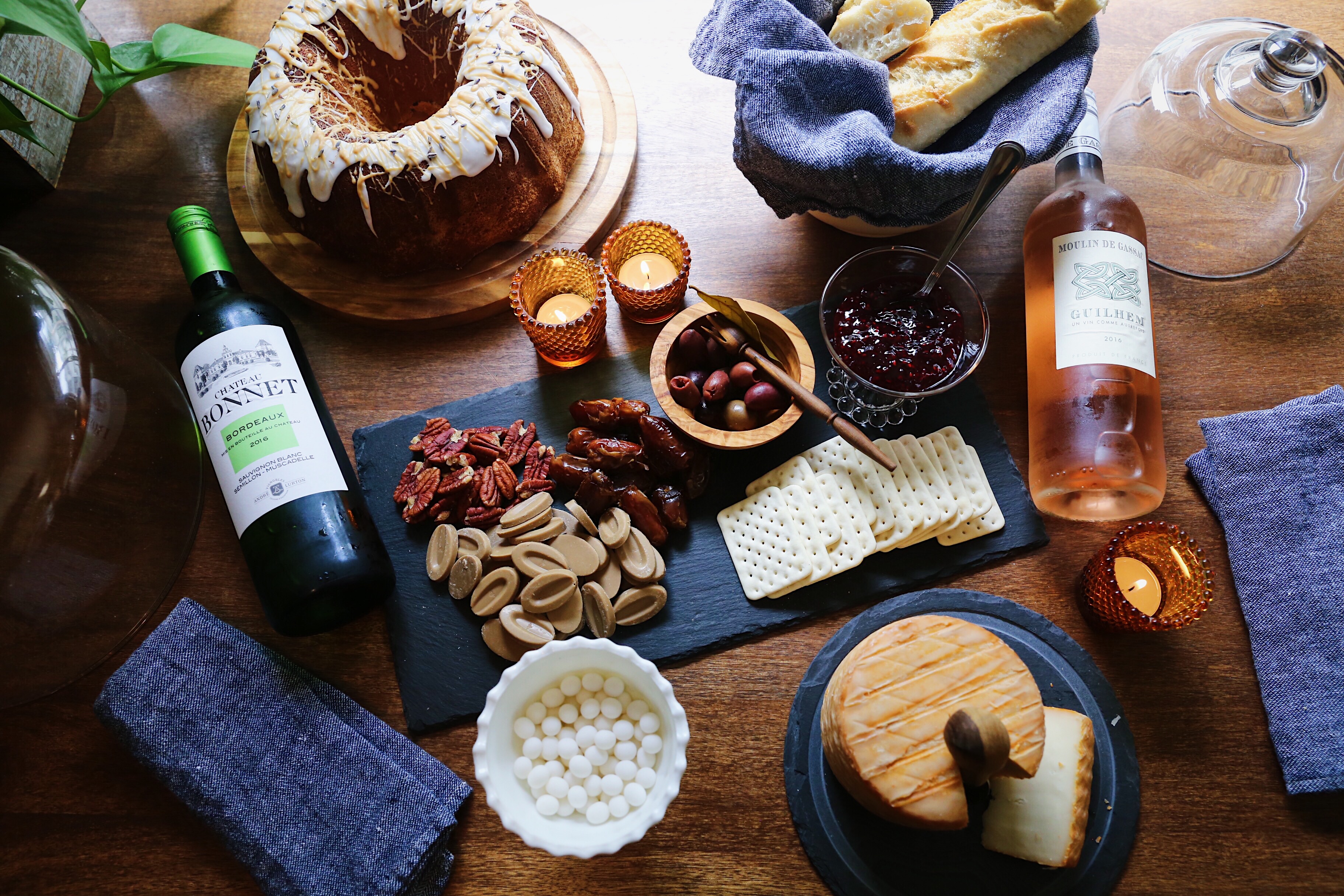 More On the Products
I thought I'd pass along a little more of the information I was given about the products themselves. Feel free to ask me any questions you might have about tastes/pairings!!
Product: MAS DE DAUMAS GASSAC White
From: Languedoc Region
Retail Price: $39-45
Where to Buy: Independent retailers – Fine Wine stores and wine-savvy restaurants
Product: MOULIN de GASSAC GUILHEM rosé
From: Languedoc Region
Retail Price: $10-$13
Where to Buy: Whole Foods, Independent retailers – Fine Wine stores and wine savvy restaurants
Product: LES VIGNOBLES ANDRÉ LURTON Château Bonnet White 2016
From: Bordeaux region
Retail Price: $13.99
Where to Buy: Every state throughout the US
Product: LES VIGNOBLES ANDRÉ LURTON Bonnet Red 2014
From: Bordeaux region
Retail Price: $14.99
Where to Buy: Every state throughout the US
Product: Président® Unsalted Butter Quarters
From: Normandy
Retail Price: $5.50
Where to Buy: Online
Product: ISTARA P'TIT BASQUE
From: Basque region
Retail Price: $20-$25/lb.
Where to Buy: Zabar's, Whole Foods Market, Wegmans, Costco, etc
Product: VALRHONA Dulcey 32% baking bar
From: Cocoa beans sourced all over the world; chocolate made in the Rhône Valley
Retail Price: $12.99
Where to Buy: Valrhona online boutique
Product: VALRHONA Orelys 35% 500g baking bag
From: Cocoa beans sourced all over the world; chocolate made in the Rhône Valley
Retail Price: $22.99
Where to Buy: Valrhona online boutique