Honestly, I don't know if there's anything that smells as good as Lemon Rosemary Chicken in the oven.
Looking back, it's hard to remember a night when my family wasn't gathered together to enjoy a home-cooked dinner. No matter how late she worked, my mother always made sure that the people she loved had a warm, delicious meal to help melt away the cares of the day. When mom finally made her way out to join me on the West Coast, I decided to take the opportunity to thank her by starting a weekly dinner tradition.
This week I really wanted to make something with artichokes. The funny thing was that I couldn't seem to find any recipes that sounded quite up to par. In the end, I decided to use an existing recipe and add them myself. So, without further ado, how to make Lemon Rosemary Chicken with Potatoes and Artichokes.
Ingredients Needed:
-Chicken- 8-10 pieces, skin-on and bone-in
-Baby Red Potatoes- 1 pound, left whole
-Onion- 1/2, cut in large pieces
-Fresh Artichoke, 1-1 1/2 cups or 2 hearts
(How to Prep an Artichoke for a Dish)
-Lemon, 1, sliced
-Lemon, 1, squeezed for juice
-Olive Oil, 1/3rd cup
-Garlic, 2 cloves, minced
-Fresh Rosemary, 1 tablespoon, coarsely chopped
-Fresh Rosemary, sprigs for garnish
-Crushed Red Pepper Flakes, 1/2 teaspoon
-Salt, 1½ teaspoon
-Fresh Ground Pepper, 1/2 teaspoon
-Cooking Spray
Directions:
1st- Preheat oven to 400 degrees F.
2nd- Combine lemon juice, olive oil, garlic, chopped rosemary, crushed red pepper flakes, salt and pepper in a small bowl and whisk together.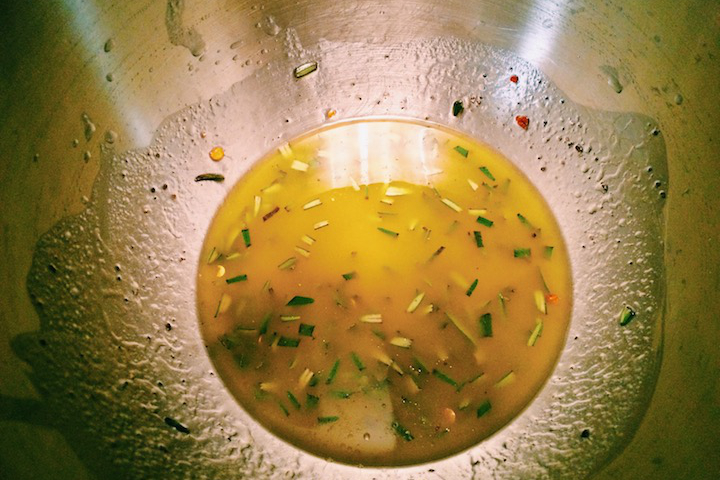 3rd- Spray a glass 13-in. x 9-in. baking dish with cooking spray.
4th- Arrange chicken (skin side up) in the pan, leaving even spaces for other ingredients.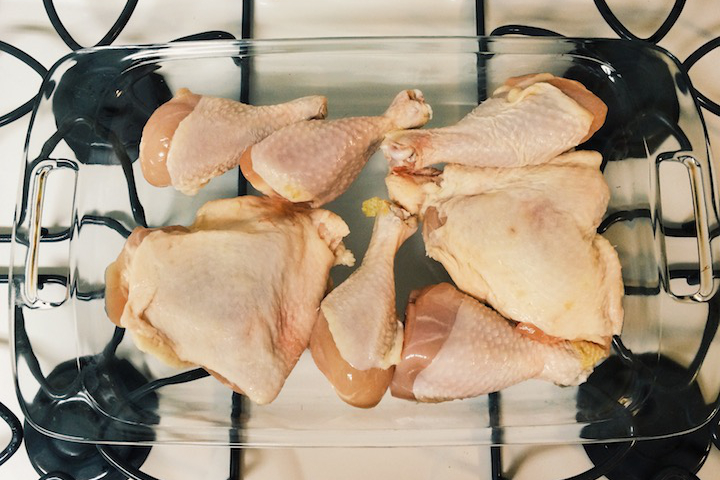 5th- Place potatoes, sliced onion, and artichokes in gaps and on chicken. Add lemon slices on top.
6th- Pour prepared mixture over everything. Remix just a bit before adding so the larger pieces like garlic and red pepper flakes are evenly distributed.
7th- Sprinkle dish with additional salt and pepper. Don't go too crazy though, this dish is already going to be full of flavor.
8th- If desired, place rosemary sprigs on top of lemon slices for additional flavor.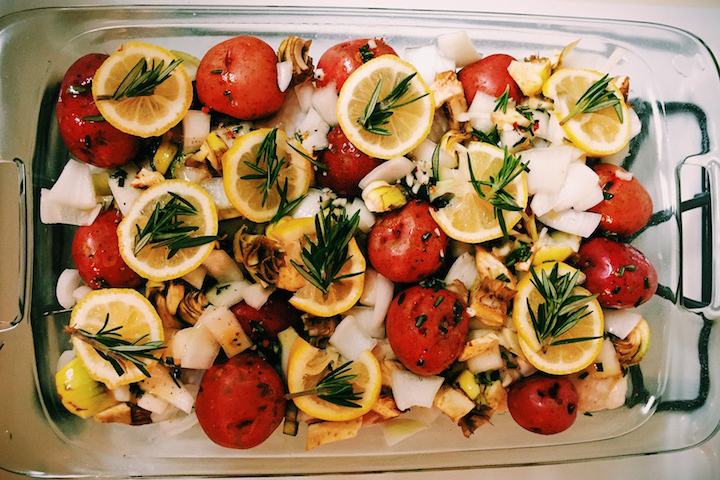 9th- Bake dish uncovered ~1 hour. You're looking for the chicken to be fully cooked, and the potatoes to be soft.
10th- Garnish with fresh rosemary if you did not top before baking and enjoy!!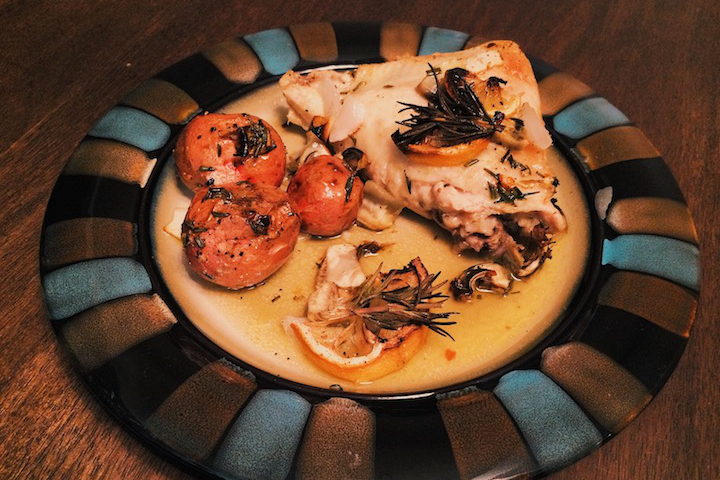 This recipe is a slight variation of Laughing Spatula's Roasted Lemon Chicken with Potatoes and Rosemary, which is, in turn, a variation of Comfort of Cooking's Easy Roasted Lemon Chicken. It seems the general consensus is that you can mix and match as far as vegetable additions to this recipe and it will still be delicious.