This past May, I embarked on the Carnival Vista for a 10-day cruise through the Mediterranean and it. was. AMAZING! Being my first ever, I didn't know what to expect going in, and now that it's behind me, I have to admit that I'm a little worried I've been ruined for all other future cruises. To be clear, this was not a relaxing vacation, and I mean that in the best possible way. This is definitely a trip you want to take when you're looking to have a non-stop adventure full of memorable experiences. Of course there are plenty of opportunities to recharge, but there's so much to do that laying around all the time just doesn't feel right.
We started out our trip on a gorgeous day in Barcelona, Spain. It was so exciting seeing the ship as we approached the port. The Carnival Vista was so much bigger than any of the others, and it would soon be clear as to why. Everything from the size of the rooms to the amount of restaurants and attractions was so much more than what I had been told about from people I knew who had gone cruising before. Not to mention that this was only the Vista's second voyage, so there were no reviews to prepare me. So not mad about it. From there we stopped in Marseille (Provence), Florence and Pisa (Livorno), Rome (Civitavecchia), Naples and Pompeii, Crete, Rhodes, Kusadasi (Ephesus), and Athens. Just a heads up, this post is not about those ports and excursions; those will all need to be covered on their own. This post is going to be about walking you through what this amazing ship has to offer, from the start of your day, to the end!!
Breakfast
It's a beautiful morning, and you've woken up to find yourself in an entirely new city (or even country) from the one you were in yesterday. If you're a morning person, you're probably already sipping your coffee at the cornucopia of a breakfast buffet they have set up on the lido deck by the time the cruise director's announcements begin. If you're not so much this type (me), or are busy getting ready to leave for one of the incredible excursions they have to offer, that doesn't mean you have to miss out. Each room has door tags that you can fill out with your breakfast choices and desired delivery time to hang up the night before. Being someone who likes to stay in bed until she absolutely has to get up, this definitely saved me from ever rearing a hangry head later in the morning.
Morning Activities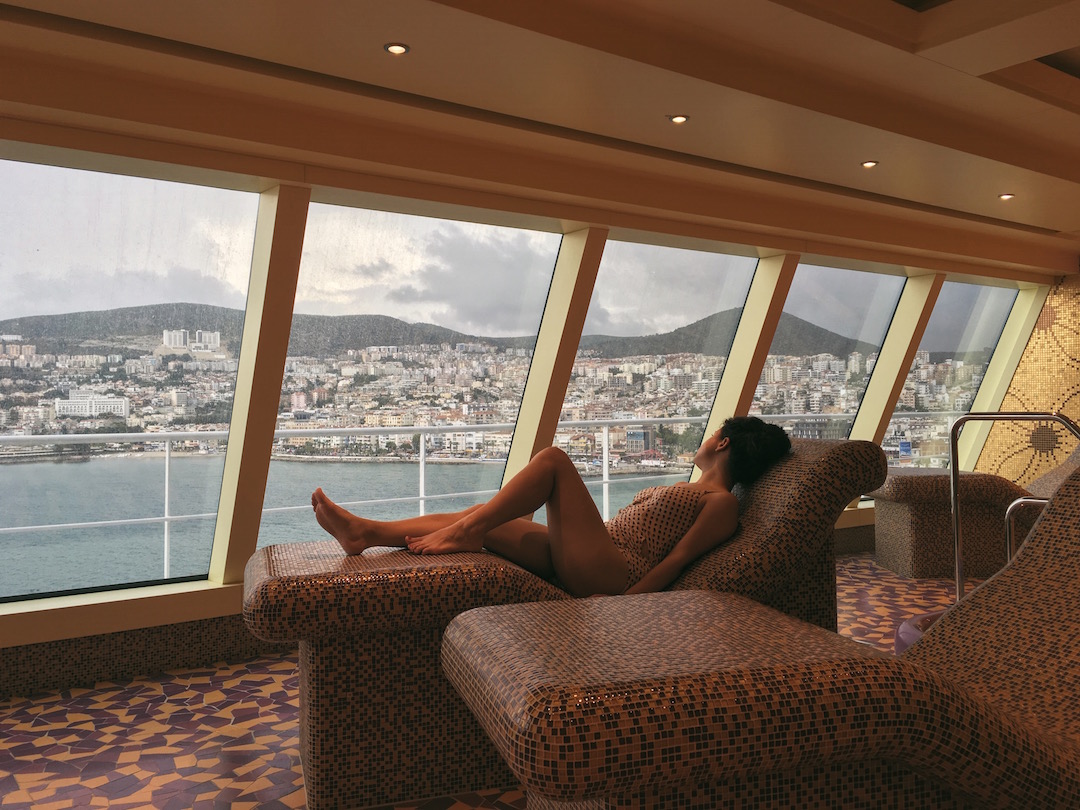 If it's a day at sea, or you're not heading for an off-ship outing, then get ready for a whirlwind of possibilities. Even from this point in the day, no matter what you're into, or the mood you're in, there are so many things to do. If you're looking to exercise, Deck 12 has a perfect outdoor jogging track and fitness area with gorgeous views of your port and the sea. Or, if relaxation is more what you had in mind, I definitely recommend spending at least one day at the Cloud 9 Spa (the steam rooms and heated beds are the best). Not gonna lie, I ended up spending a lot more time than I would have thought at the outdoor activity park, where you can play everything from mini golf to foosball.
Lunch
It's a little later now and you've worked up an appetite with all the exercising/steaming/winning you've been doing, but where to eat? Personally, it was difficult for me to stray from the burritos at the BlueIguana Cantina. However, if you crave variety (or are some weirdo that doesn't like burritos) you can always venture to Guy's Burger Joint, the Comfort Kitchen, Poolside Pizzeria, or the Carnival Deli. I may not have gotten much else for myself, but I can say that based off of all the food I stole from my boyfriend's plates while we were there, you won't be disappointed with any decision you make.
Afternoon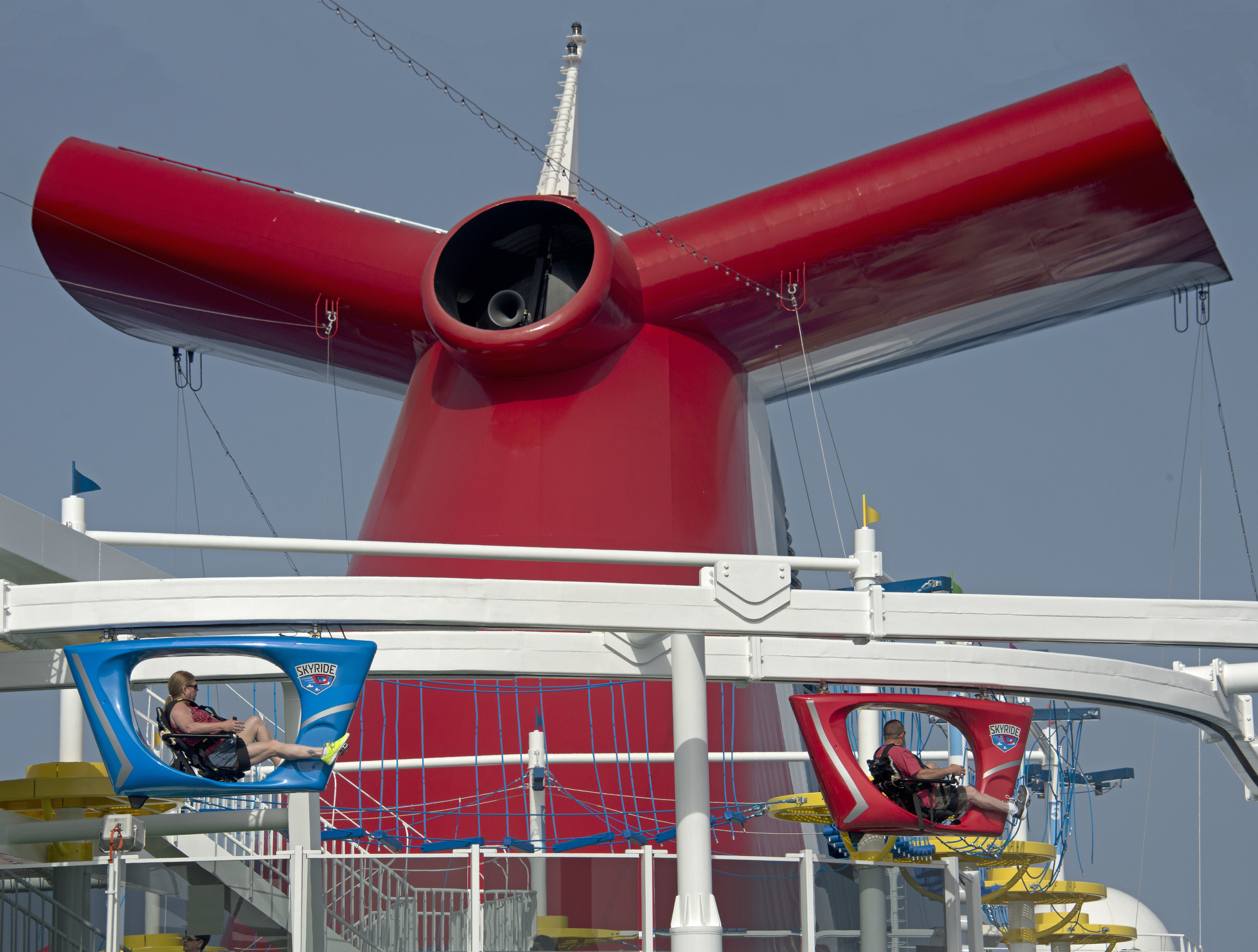 Oh, the afternoon!! Right about now is when things begin to get a little more social. The temperature is warming up, even more attractions and activities are available, and people will begin returning from their excursions soon. I think my favorite place to start was at the SkyRide – a ridiculously fun incumbent bike track that's 800 feet long and suspended 150 feet above the sea – and the intimidating at first, but then totally thrilling Ropes Course. After that, it was to the water activities. I would still be looking for a little excitement, so I would go straight for the Twister waterslide or Kaleid-O-Slide (side note: first water tube slide for Carnival). After that, you could find me grabbing a drink at either the RedFrog Rum Bar or BlueIguana Tequila Bar and laying out by the pool to watch something in their outdoor theater or a hilarious event like the "Hairy Chest Contest".
Of course, there were definitely times when I would be feeling a little less active, or the weather might not have been cooperating. These days were perfect for some quiet gaming and wine at the Library Bar, seeing a movie in their first-ever-on-a-cruise-ship IMAX theater, playing some trivia, or just hanging out at the Java Blue Café until it was time to get ready for dinner.
Kids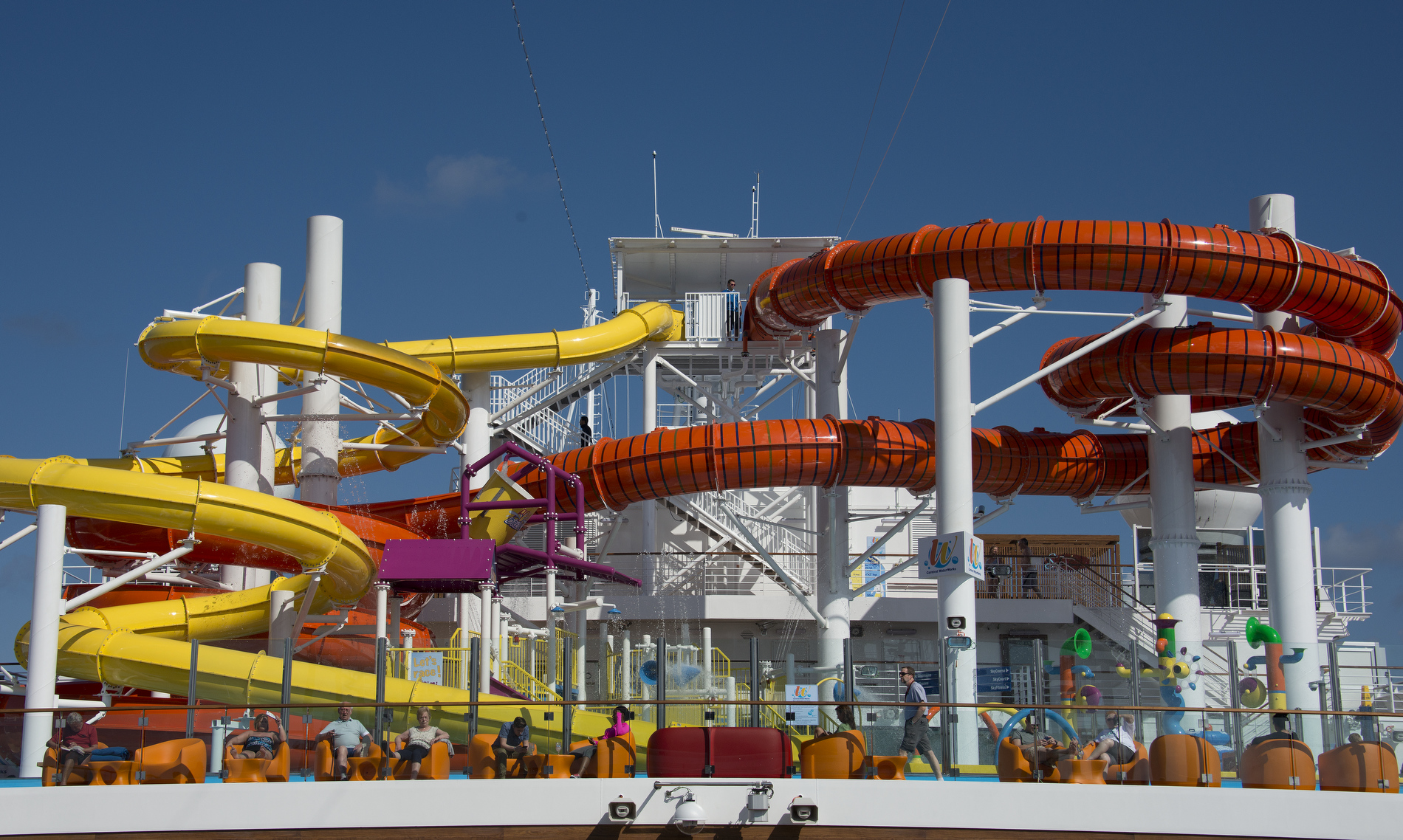 Just want to take a quick moment to point out that, if you happen to have kids along with you on the trip, there are plenty of things for them to do as well. From Camp Ocean and Cherry on Top, to the Warehouse arcade and Dr. Seuss Bookville, there's something for everyone to do.
Dinner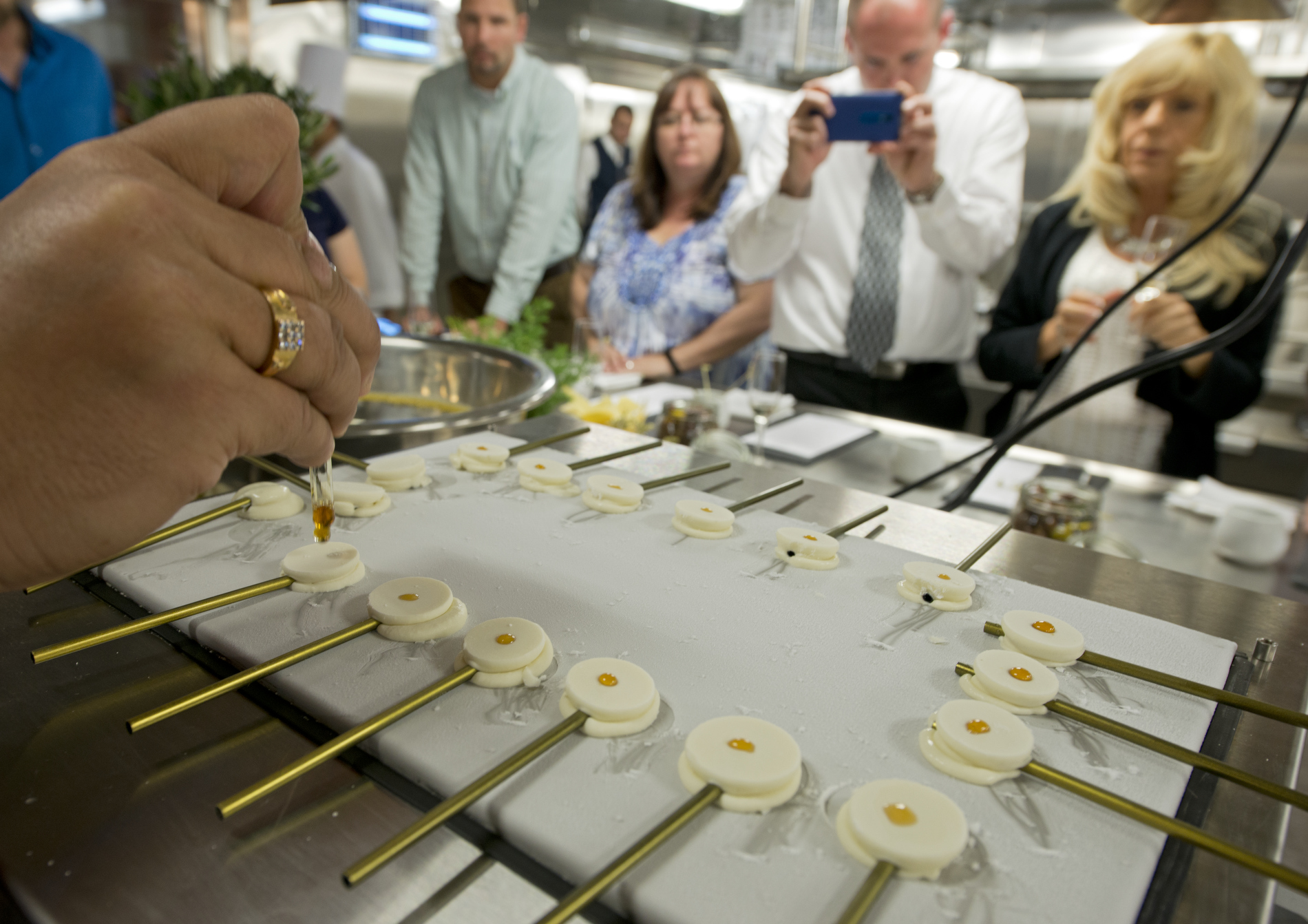 This is a big one. First off, the general dining areas were fantastic! The food was always delicious and options changed every single night, so even if you weren't to venture out and eat at one of the special venues you would never be bored. What's more, they have Port of Call selections for every location, as well as a special section for foods you've always wanted to try, but never have. I can now say that, for better or for worse, my list is now much smaller than it once was. Finally, I would be remiss if I didn't mention how genuinely great the wait staff was.
If you're craving something a little more specific, there are a number of specialized restaurants that only cost about $20 per person. There's Fahrenheit 555 for steaks, Seafood Shack, Bonsai Sushi, and, my favorites, Cucina Del Capitano for Italian, and Ji Ji Asian Kitchen.
For those looking for a VIP experience, The Chef's Table is definitely where you want to sit. This experience offers cocktails and hors d'oeuvres for only 14 guests, followed by a galley tour and a full-service special dinner.
Night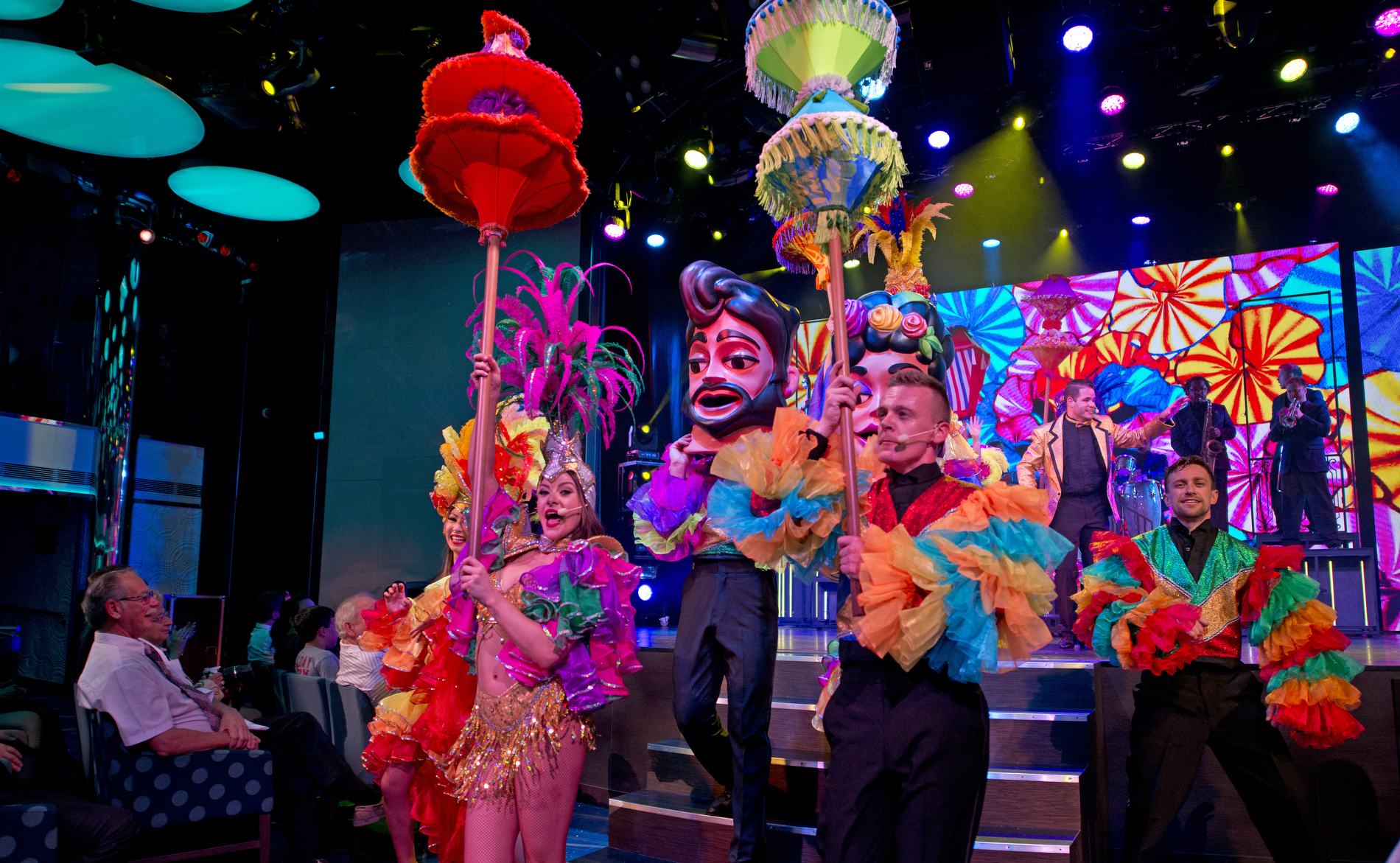 I really don't know where to start here. Generally, our after-dinner activities would be starting at Alchemy bar for some unique cocktails. After that it would be to one of their ridiculously amazing shows like America Rocks! Or Amor Cubano: A Caribbean Dance Romance, hilarious comedy performances, or to a 4-D scary movie. Once those were over, there were bars open for literally every type of person: people who like to dance (Liquid Lounge or Havana Bar), people who like to sing (Piano Bar 88), people who like craft beer (Redfrog Pub and Brewery), people who like sports (Sports Bar), AND people who like to gamble (Winner's Luck Casino Bar) aka, where my nights always ended.
Back at the room
And now we've made it back to the room. Maybe you've closed down the ship. Or maybe you were looking for a little quiet time after a long and exciting day. Either way, if you're still looking for something to do, I recommend grabbing a piece of pizza from the 24 hour pizzeria, or ordering some cheesecake from room service and settling in with your S/O for one of the great movies they have to choose from. In my opinion, a perfect end to what was probably a perfect day.
Summary
So that's it! I know I've covered a TON of stuff, but, believe it or not, there's still more I had to leave out. To see everything the ship has to offer, be sure to check out Carnival's website. Even better, treat yourself to one of these epic experiences and see firsthand!!